Indiabulls Real Estate
The power sector is set to stimulate the capital market with 3 power companies setting up with their Initial Public Offerings (IPOs) to grow above Rs 5,000 crore.
First in the row is Adani Power that would hit the markets in July's last wee. This will be shortly followed by the IPO of National Hydroelectric Power Corporation (NHPC), which is ready to start its road shows for the IPO by the end of this month and open its offer by the first week of the coming month.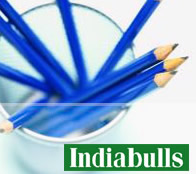 Indiabulls Real Estate Ltd would raise funds worth $600 through QIP, necessary approval for which have already received from the shareholders.
The Members at the Extra Ordinary General Meeting (EGM) of the Company held on May 18 have passed a special resolution under Section 81(1A) of the Companies Act, 1956 to issue equity shares as per guidelines of market regulator, the Security and Exchange Board of India.
India's fourth-biggest property developer by market value, Indiabulls Real Estate plans to acquire Dev Property Development PLC, listed on London Junior Stock Exchange.
The company's board at its meeting has approved a proposal to buy 100% stake in Dev Property by issuing new shares represented by GDRs. Indiabulls has valued Dev Property at 138-million-pound sterling (Rs 1091.85 crore).
Under the terms of the offer, Dev Property Development shareholders will receive 0.12091 new Indiabulls Real Estate global depository receipts (GDRs) for each share held in the company.