HMSI
With sales of close to 146,073 units for the month of June, HMSI has displaced TVS Motors to become the third largest two-wheeler maker in the Indian market.
Already leader in the automatic scooter segment, HMSI has been eying the third largest pot for a very long time and the company has been able to get its grip right for the first time in the last month.
It is to be mentioned here that the company posted a recorded growth of 41.5 per cent for the month of June, which was way up as compared to sales of 103,209 units for the same month a year earlier.
While the 100% subsidiary of Honda Motor Corporation, Honda Motorcycle and Scooters India (HMSI) has recently dethroned TVS Motors as the third largest seller of Motorcycles in the country, there is no denying that the company still faces production constraints. In fact, the company has recently announced that it expects the Phase-I of its Rajasthan manufacturing facility will be operational by H2, FY'11.
Country top two-wheeler maker Honda Motorcycle and Scooter India (HMSI) has introduced entry-level bike in the market but declined to usher in a direct completion with Hero Honda, the leaders of the entry-level bike segment.
Honda Motorcycles and Scooters India recently confirmed that the company is in "the final stage" of preparations to enter into the 100-cc segment of the country's two-wheeler market and will be unveiling its first ever 100-cc motor bike at the Auto Expo 2010.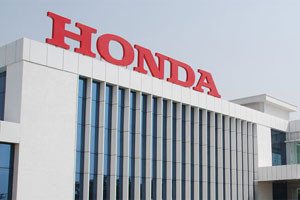 With an aim to enhance its sales, Honda Motorcycles and Scooter India, has introduced a new version of its 125 cc sports bike – 'CBF Stunner' in the Indian market, priced at Rs  64,630 (ex-showroom, Delhi).
According to company authorities, this new variant comes equipped with PGM-FI (Programme Fuel Injection) technology that gives more power.
Honda Motorcycle and Scooter India (HMSI), a 100 per cent subsidiary of Honda Motor Corporation, Japan, has decided to spend Rs 300 crore as part of its expansion plans in India over the next three years.
In addition, the company would also utilize the investment in up-gradation of the plant capacity in Manesar.
Honda Motorcycle and Scooters India Ltd (HMSI), has launched the 125cc CBF Stunner on Monday. The company has, thus, made its position in the fastest growing 125cc segment category in the motorcycle industry. New bike would be priced between Rs47070 and Rs51655. The company has set a target to sale10 lakh units in the current fiscal. The seven lakh units of projected sales will come from scooters and the rest will be motorcycles.