Biocon
Kiran Mazumdar-Shaw, chairperson and managing director of biotech giant Biocon Ltd, has been named the winner of this year's Othmer Gold Medal, the company has announced.
A spokesperson for the Bangalore-based company said Ms. Mazumdar-Shaw would receive the 2014 Othmer Gold Medal in March this year at Philadelphia.
The Othmer Gold Medal is a top award of the Philadelphia, U. S.-based non-profit organisation Chemical Heritage Foundation, which has been making efforts to preserve history and heritage of chemistry and chemical engineering.
Though, the net sales of Biotechnology Company, Biocon was up by 10% amounting to Rs. 441.68 crore, its net profit decreased by 9% amounting to Rs 70.05 crore. The fall has led the company's shares to decrease by 4% in the market.
The officials of the company have said that there has been a healthy increase in the profits from its manufacturing and services businesses, but they have experienced low licensing income in the quarter.
Biotechnology major, Biocon Ltd on Thursday said that its consolidated net profit rose 3.24 times to Rs 80.62 crore in the forth quarter ended March 2010 compared to Rs 24.88 crore in the same period last year.
The consolidated net sales of the Bangalore based company rose to Rs 56.84 crore in the forth quarter of 2009-10 against Rs 466.26 crore in the same quarter of 2008-09. Biocon declared a dividend of Rs 3.50 per share.
It has been reported that biotechnology chief Biocon, has completely got hold of the mutual project Biocon Biopharmaceuticals from its Cuban partner CIMAB.
It is said that under the industry reformation strategy, Biocon will pick up CIMAB's 49% stake and will make Biocon Biopharmaceuticals (BBPL) an entirely possessed ancillary of Biocon.
The financial details of the deal were not declared by the company.
But CMD, Kiran Mazumdar Shaw, told ET that the takeover was funded through internal accumulations.
Biotechnology firm Biocon said that its consolidated net profit almost tripled at Rs 80.8 crore in the third quarter of the current financial year, over the same period previous fiscal.
Total income of the firm rose to Rs 641.5 crore for the quarter ending December, against Rs 452.4 crore in the corresponding period last year, the firm said in a filing to the Bombay Stock Exchange.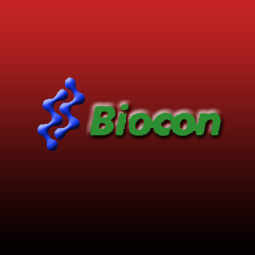 Biocon, Bangalore-based Biotechnology firm, reported a growth by of 262% in its net profit of the first quarter ended June 30, 2009.
The company posted this growth because of the strong functioning in its services business as well as due to certain cost cutting measures undertaken by the firm.
Bangalore-based bio-technology Biocon has picked up a 70% stake in AxiCorp GmbH, a German-based pharmaceutical firm, for a consideration of 30 million Euros.
The acquisition would enable Biocon to market and distribute a range of pharmaceuticals, including generics, biosimilars and biologics in Germany and other countries in Europe.